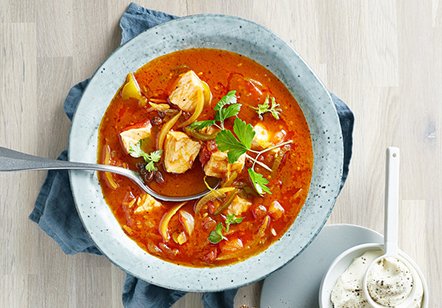 Chop the salmon into small cubes.
Heat a pot with olive oil.
Slice the onion and peppers into thin slices and finely chop garlic and chilli. Fry it all while stirring. Add the tomato puree and nicely chopped tomato. Add the fennel seeds and star anise.
Add white wine and fish stock. Let it boil on low temperature for about 20 minutes.
Add lemon juice, saffron, salt and pepper.
When the soup is ready you remove it from the heat and add the salmon.
Let the fish rest in the hot liquid for five minutes before serving. Serve with aioli, bread and fresh parsley.